7 Ways to Free Play AVI on Windows Media Player
By default, Windows Media Player has the ability to access the AVI file (For details, see Microsoft's official website), simply double-click the AVI file should allow it to run in Windows Media Player. However, why you can still receive an error message when you try to play some AVI files file in Windows Media Player?
More Topic:
Through some tests, we found the common causes are as follows:
Reason 1. AVI Codec Pack not installed
AVI is a very old container format, the video stream could be compressed using the DivX, Xvid, H.264, VP9 or MPEG-4 codec. If your AVI file contains a video stream that uses a more modern codec for compression, Windows Media Player may not be able to play it because it can't decompress that particular codec. So you need install the appropriate codecs on your computer.
Reason 2. Corrupted or damaged AVI files
If the right AVI codec pack have been installed, but Windows media player can't still play the AVI files, your AVI files may be corrupted. In this case, you can play the corrupted or damaged AVI files on other players or devices to check if this is the reason.
Reason 3. AVI Format not converted properly
If you use sub-standard conversion method, you're still faced with AVI files can not be played on Windows Media Player. It is recommended to ensure the best and most advanced conversion method applied to ensure that users get the best results.
Note: If you find other reasons cause Windows Media Player can not play the AVI file, please leave your message in the below comment box.
There are some solutions for above reasons: use a newer version of Windows Media Player; convert AVI to another format MP4, WMV and other video; install the necessary codecs on your system to Windows Media Player you can decompress video streams; repair damaged AVI video; use other media players instead of Windows media player, such as VLC, it has a lot of support for each codec.
Method 1. Newer Version of Windows Media Player
To enable AVI playback in Windows Media Player, you need check for updates to ensure it plays supported files in the future.
If you are running Windows XP or Windows Vista, the latest version that will work on those operating systems is Windows Media Player 11. Unfortunately, XP and Vista users will have to pay to upgrade their machines to Windows 10 or invest in a new machine.
If are running Windows 7 or higher, then you are running the latest version, which is Windows Media Player 12. Version 12 can play the most formats including AVI, MP4, MOV, AAC, H.264 and M2TS.
Step 1. Update to the newest player 
Open the Control Panel, and type "Windows Update" in the search field. Click on Windows Update, and run the scan. Update the player to the newest version, as an older version may be causing the problem. For older computers that cannot run the newest version, you can find an option to enable AVI in the menu. 
Step 2. Enable the Tools menu 
Windows Media Player 12 offers full support for AVI; however, if you cannot update to the newest version, press the shortcut keys "Ctrl+M" to show the menu. Click Tools, and select Options.
Step 3. Check for AVI playback 
Click the Files Type tab in the new pop-up window. Make sure you see a check next to Windows video file (avi) in the list. If not, check the tick box to enable playback. Afterward, open a Windows Explorer folder, and find an AVI file. Double-click to play the AVI video in Windows Media Player.
If you're sticking with the older OS, then keep reading the below more methods.
Method 2. Install AVI codecs for Windows Media Player
You can install the missing codec that Windows Media Player needs to play AVI files. Here is AVI codecs website:
You just needs to visit the URL, click the download link to start the downloading of the codecs and the related file is to be saved. Then run the downloaded file and the prompts are followed in this regard to install the program. Once done a system restart is required. Then you can play AVI files on Windows Media Player with smoothness.
Method 3. Using online AVI to WMV converter
Way 1. Use convertio.co – A online AVI to WMV converter tool
It can convert AVI files to Windows Media Player compatible WMV format. For mac & windows. No download required. 
Way 2. Using ZamZar.com – A popular online video converter
Step 1. Select the "Choose File" menu button and select the "AVI" file or drag and drop AVI files. 
Step 2. Choose "WMV" as the desired file output from the video conversion. 
Step 3. Enter your email address to receive converted files 
Step 4. Click the "Convert" menu button and the ZamZar website will send an email with a link to download the converted file. 
Method 4. Free – Convert AVI to Windows Media Player MP4 format
You can use a desktop program called HandBrake, which is free, the latest version shi Handbrake 1.0.0. Note that when using HandBrake, it will convert the video into MP4 format using the H.264 codec. Vista and XP users will not be able to play those videos using WMP 11. For those users, you need to upgrade as previously mentioned or use a third-party media player like VLC, which I mention below.
This is mainly for Windows 7 and higher users who have an AVI file that uses a different codec not supported in WMP 12.
It's really easy to use HandBrake also. Just click on the "Source" button, then click on File and browse to the location of your AVI file.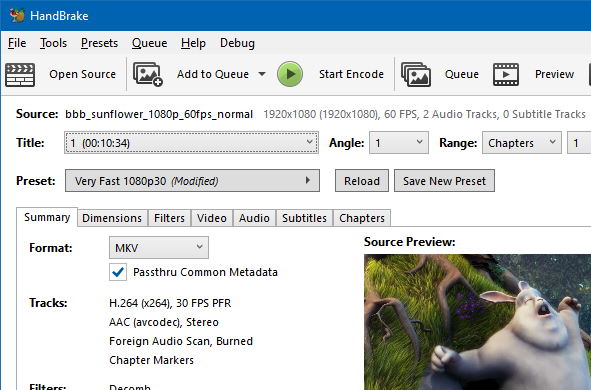 Once it has been scanned, you can leave everything as is and just click the Start button. Your file will be converted into an MP4 file in the same directory as the original video file.
Method 5. Paid – Convert AVI to Windows Media Player WMV format
Hivimoore Video Converter Ultimate is a type of professional, quickly, safe and easy-to-use video conversion application which is specialized in converting AVI to WMV for playing on Windows Media Player or further edition in Window Movie Maker. The software package supports convert, online download, record, burn, edit, play, upload various popular video and audio formats.
Hyper-threading technology supported, this AVI to WMV converter helps you converting AVI video to WMV with 30x fast speed. Furthermore, it enables you to convert two or more AVI videos at a time. What's more, it is 100% No Spyware, No Malware, No Adware and No Viruses.
Key Features:
It quickly converts AVI to WMV, include SD, HD WMV and AVI.
It quickly compresses 4K AVI to 1080p or 720p WMV.
It quickly create 3D WMV from AVI video.
It quickly download WMV or AVI videos form online websites, like YouTube, Vimeo, Mega, Facebook, Metacafe, etc.
It quickly burn WMV and AVI to DVD or ISO image files.
It quickly edit AVI and WMV videos.
It quickly extract audio from AVI and WMV videos.
It quickly convert videos to any different format such as AVI, WMV, MOV, MKV, MP4, M2TS, VOB, Tivo, M4V, SWF, FLV, F4V, WRF and much more. It also supports HD/4K video files like 4K/HD MP4/MKV/AVI/MOV/M2TS, etc., as well as 3D MP4, 3D AVI, 3D MKV, 3D WMV, 3D Youtube.
It can also convert a number of standard of audio files to formats like FLAC, AC3, MP3, AAC, WMA, WAV, MKA, OGG, etc.
It also has an editor with basic editing tools like cropping, splitting and rotating. And you can also add watermarks to images and videos.
It can be compatible with Windows 10/8/7/XP/Vista, macOS Seirra 10.12 or older.
Just download it to your computer and install it correctly.
How to Convert AVI to Windows Media Player support WMV?
Step 1. Add AVI files to the converter
Click on the "Add Files" button and load the AVI videos you'll like to convert. You can add several AVI files at the same time because it's equipped for batch processing. That'll save you time for something else on your to-do list. 
Step 2. Choose WMV as the best format for Windows Media Player.
Proceed to select "WMV" as your output format.
If you wish to adjust the format settings, click on "Settings" button.
Step 3. Click the "Convert" button to begin the conversion.
Method 6. Fix the corrupted AVI for Windows Media Player
There are times when certain avi videos aren't playable on Windows Media Player, it may be corrupted. Here we give you the remedy-download and install the highly sought-after free DivXRepair, which has the knack to repair all kind of AVI files through removing the bad parts and re-assembling the AVI file.
Step 1: After free Downloading and install this software, open it and select the corrupted AVI files by pressing "Add File" button.
Step 2: Click "Repair Files" button to initiate the AVI file repair process. 
Step 3: After repairing finishing, preview the repaired AVI video file before saving. 
Step 4: Save your repaired AVI file to your desired destination folder.
Method 7. Using Windows Media Player Alternatives to play AVI
Apart from Windows Media Player, there are some other free AVI players for Windows. If you are not versed in dealing with Windows Media Player won't play AVI problem by installing the abstract codecs or converting AVI files, it doesn't matter! VLC is considered as the famous alternative.
Download VLC Media Player and install it, run it and then click File > Open File to load your AVI files for playing. Most AVI files play well with this smart video player.
Conclusion: If you consider play, convert, edit, download or burn AVI videos with the simplest way, Hivimoore Video Converter Ultimate that integrate video player, video converter, video editor, DVD burner, DVD Ripper and online video downloader is highly recommended as the best ultimate solution. All you need to do is load the video you want to watch into the program. What's more, no any extra codec package is needed.
Now the issue of "Windows Media Player can't read AVI files" is resolved with very simple methods. What an amazing tour it is! If you still can't play AVI files in Windows Media Player, post a comment and I'll try to help! Enjoy!
Editor's Recommendation: